Previous entries in this series
:
1. Khwaja Ghulam Fareed (RA)
2. Allama Muhammad Iqbal (RA)
3. Bedam Shah Warsi (RA)
In a remote valley in central Afghanistan, at the confluence of two rivers, nestled amongst rugged mountains stands a solitary tower of staggering beauty. It is the only remaining symbol of a once glorious city, the capital of a magnificent dynasty. At almost 2000 metres above sea level and with a height of 65 metres, this tower quite literally "speaks with the stars", as one description puts it. It is a UNESCO World Heritage Site, and the UNESCO website defines the following three criteria for its selection :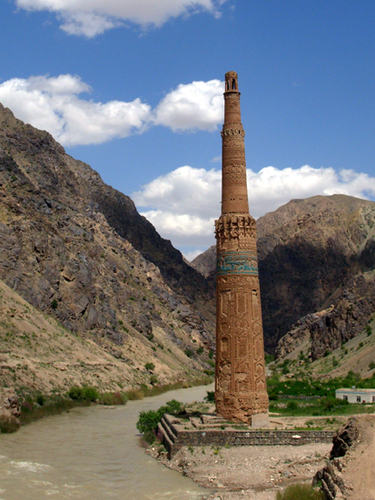 1. Its architecture and ornamentation are outstanding from the point of view of art history, fusing together elements from earlier developments in the region in an exceptional way and exerting a strong influence on later architecture in the region.
2. The innovative architecture and decoration of the Minaret played a significant role in the development of the arts and architecture of the Indian sub-continent and beyond.
3. The Minaret and its associated archaeological remains constitute exceptional testimony to the power and quality of the civilization that dominated the region in the 12th and 13th centuries.
4. The Minaret is an outstanding example of Islamic architecture and ornamentation in the region and played a significant role for further dissemination.
The Minaret shares its location with the subject of today's post. The location is the town of "Jam", birth-place of one of the greatest Sufi poets and mystics of the Persianate civilization,
Nur ud-Dīn Abd ur-Rahmān Jāmī (RA).
Read the above description again, overlook the word 'architecture' and replace the 13th century with the 15th, and you have a perfect description of Maulana Jami (RA). Jami (RA) towers over the landscape of Sufi literature and forms an important link between the land of his birth and the rest of the Persianate Empire. He is the last of the great Persian Sufi poets, the culmination of centuries of development and innovation in thought and expression. The only difference is that where the Minaret Of Jam speaks to the stars, Jami (RA) speaks to all of God's creation; the moon and the stars, the trees and the flowers, the nightingale and (most poignantly and beautifully) the breeze.
Maulana Jami (RA) was born in 1414 and died in 1492. His era forms the bookend to the Classical Era of Farsi poetry and his poetry is enriched by the influence of all the major Sufi poets of the preceding five centuries. What emerges is an idiom characterized by simplicity, depth of meaning, an abundance of simile and metaphor, and most importantly; the defining characteristics of Maulana Jami (RA)'s poetry, deep love for the Prophet (S.A.W). His poetical works, especially "Haft Awrang" and "Baharestan", as well as prose (including the beautiful "Lawaaeh") are canonical pillars of Sufi literature and were part of the curriculum of both Sufi and secular studies for centuries. But what sets Jami (RA) apart from all the poets who preceded or followed him, is his complete mastery over the "Na'at" - poetry in praise of the Prophet (S.A.W) ; so much so that the name of Jami (RA) is synonymous with Farsi na'at.
The na'at is not a verse form per se. A ghazal can be a na'at, so can a mathnavi, or a ruba'ai. In fact, na'ats have been written in all known verse forms of Urdu and Farsi. Thus, Jami (RA)'s mastery over the na'at implies a mastery over multiple verse forms. He wrote ghazals, beautiful ruba'ais and in the "Haft Awrang", seven books of mathnavi. All of his na'ats share the same ideas of humility, depictions of the physical and spiritual beauty of the Prophet (SAW) and the overarching theme of his poetry, the mercy and benevolence of Allah expressed through the character of the Prophet (SAW). His intense love for the Prophet (S.A.W) is best summed up in this (perhaps apocryphal) tale that I also mentioned in a previous post.
"It so happened that once this 'ishq' was at its peak and poor Jami became restless. He composed a wonderful naat in the praise of Allah's Habib and in the agony of love made a vow to recite that very poem in front of the Prophet's Mausoleum in Madina. So, gathering some of his many disciples with him, he set off on the long and arduous journey to fulfil his vow.

After many a month of travel, the caravan led by the Imam of Love, Abdul Rahman Jami, reached the outskirts of the City of the Prophet and Madina was only a few miles journey away. As they camped for the day, they saw a rider on a horse coming towards them at a galloping pace. The strange rider stopped in their midst and asked the group, "Which of you is Jami?" The disciples pointed out Jami and said, "That is our leader, Shaykh Imam Abdul Rahman Jami!" So the rider guided his horse towards Jami and, alighting, greeted Jami with the words, "Assalamu alaykum!"

"Wa alaykum as-salam! Who are you? Where are you from and why are you here?" asked the venerable Sufi.
"Jami, I have come here from Madina!"

At the mention of these words the lover of the Prophet (sal Allahu alayhi wa sallam), Jami, took off his turban and placed it the feet of the stranger saying, "May I be sacrificed for these feet! They have come from the city of my Prophet!"
Jami continued, "Good sir! Tell me, why have you come?"
The man went silent for a while and then answered, "Jami what I am going to tell you, you must promise to hear it with a stout heart."

"I will", said a slightly bemused Jami, "but tell me!"
"Jami", continued the rider, "I have been sent to you by the Prophet (Sall'Allahu Ta'ala Alayhi Wa'alihi Wa'sallam) himself"
"Tell me! What does my Master say?" interjected Jami.
"Jami, the Prophet (Sall'Allahu Ta'ala Alayhi Wa'alihi Wa'sallam) has sent me to tell you that he has forbidden you to enter Madina and visit him!"
At these words Jami was thunderstruck, his head swam and his legs gave way beneath him and with an agonised shriek the Shaykh fell to the ground in a swoon. The disciples were terrified that their Shaykh had passed away but after many hours Jami came back to a state of consciousness and he wept copiously. The messenger was still there and Jami asked him, "Tell me O' bringer of such tidings! Why does my Master prevent me from entering Madina? What sin have I committed? Why is my Medinan Lord angry with me?"
The messenger replied,"the Master is not upset with you. Indeed, he is very happy with you!".
"Then why does my liege-lord prevent me from visiting him?"
"Jami! The Prophet(Sall'Allahu Ta'ala Alayhi Wa'alihi Wa'sallam) said to me that tell Jami that if he comes to Madina with such love in his heart I will have no course but to come out of my tomb and greet him in person – such would be the recompense for his love! – so tell him not to enter Madina. I will visit him myself! Tell Jami not to come and visit me – I will visit him!"
The following selections from my collection serve to highlight Jami (RA)'s mastery over the na'at. I follow the same rules as the previous posts ; one recording per artist and one recording per kalam. Enjoy !
1. Naseema - Manzoor Ahmed Niazi, Abdullah Manzoor Niazi Qawwal
It is completely natural that I start this collection off with the recording that started my love affair with Qawwali. As I've mentioned previously, Manzoor Ahmed Niazi (RA)'s Naseema was one of the first Qawwali recordings I heard that fateful evening almost seven years ago. Since then, I have heard dozens of versions of the kalaam, most of which I cataloged in a
previous post
, but Naseema belongs to the late Ustad Manzoor Niazi. His voice, perfectly contrasted by Abdullah Manzoor Niazi's crackling delivery, lends a wonderful earthy flavor to this recording. And despite the presence of younger, more vigorous performers in the party, it is clear that Manzoor Niazi Sb still leads the group. The many brief takraars are wonderful, the percussion gives the performance a wonderful swing, and most importantly, the group never lapses into undue loudness or vocal histrionics, presenting a melodious, vigorous yet stately performance.
2. Jahan Roshan Ast Az Jamal-e-Muhammad (SAW) - Meraj Ahmed Nizami Qawwal
From one grand old man of the Qawal Bacchhon Ka Gharana to another, arguably the grandest old man of all. Meraj Ahmed Nizami is the senior-most living Qawwal of the sub-continent ; both in terms of age as well as longevity of career and mastery over repertoire. He has steadfastly refused to tamper with the traditional style of performance, eschewing such newfangled monstosities as electric accompaniment or fusion sessions, opting instead to preserve the centuries old style of Khanqahi Qawwali. The similarities in style to his late cousin Ustad Manzoor Niazi are obvious, and the octogenarian Ustad delivers this kalam in a wonderfully crisp performance.
3. Ya Muhammad (S.A.W) Ba Maney Be Sar-o-Samaan - Nusrat Fateh Ali Khan & Party
This is the kind of Nusrat performance I prefer. None of the vocal calisthenics, undue urgency or auditory bombast that plagued so many of his live performances especially during his latter years. This is Nusrat at his serenest, his tempo perfectly complimenting the kalam, ably accompanied by his party. Farrukh Fateh Ali Khan's wonderful sazeena at the start is filled with nice flourishes, Dildar Hussain's tabla maintains an unobtrusive madhyalaya beat and the performance is allowed to flow smoothly. Nusrat begins with a mellow alaap and some wonderful Farsi verses and the mood is set. The tone is pensive and subdued, as befits a humble plaint to the Prophet (SAW), especially when Nusrat addresses that favorite of Jami (RA)'s , the breeze.
Ae Saba, W'ae paek-e-mushtaqaan ba dargaah-e-Nabi
O breeze, O envoy of us yearning ones in the court of the Prophet (SAW)
Throughout the performance, Nusrat uses Farsi and Urdu girahs to excellent effect, the harmonium provides little flourishes throughout and Nusrat is at his most melodic. There are mini-takraars ( at "Shah-e-Shahaan" and "Chashm-e-Rehmat" for example) and sargams but they never overwhelm the mood of this wonderful performance.
4. Mun Khaake Kaf-e-Paaye Rindaane Kharabaatam - Subhan Ahmed Nizami Qawwal
Subhan Ahmed Nizami is one of the most exciting young Qawwals performing today. Grandson of Iftekhar Ahmed Nizami, one of the members of the original Manzoor Niazi Qawwal party of the 50's and 60's, Subhan embodies all the qualities of the Qawwal Bacchon ka Gharana. He is a wonderful innovator, always staying within the bounds of "Rivaayat" or traditional Qawwali, all the while improvising and exploring the nuances of the kalaam and the composition. His preference towards performing canonical mystical texts sets him apart from most modern Qawwals, and this has gained him a wide following among Qawwali conoisseurs both in Pakistan and abroad. His performance style is vigorous and lively, but never overloud or jarring. This kalam of Hz Jami (RA)'s has become something of a signature tune of Subhan's, and in this Mehfil recording, he sings it with wonderful verve. The girahs towards the end of the performance are wonderfully apt and display his mastery over the nuances of the kalam, rounding out the performance nicely.
5. Ze Rehmat Kun Nazar Bar Haal-e-Zaaram - Munshi Raziuddin Ahmed, Farid Ayaz & Abu Muhammad Qawwal
This is one performance to savour, recorded during a home mehfil in the latter stages of Munshi Raziuddin Sb's life, when he had handed over the Qawwali party to his extremely talented sons. His voice weakened somewhat by age, he nevertheless leads the performance. A brilliant sazeena leads on to a wonderful little performance "Koi sheher Madina jaaye", which Farid Ayaz embellishes with that exquisite voice of his. The performance within a performance continues till, just short of the 10 minute mark, the Qawwals launch into the main kalam.
The na'at is stylistically very similar to Maulana Jami (RA)'s other seminal na'at, "Tanam Farsooda Jaanpara', and the melody suits it wonderfully. Munshi Raziuddin Sb's performance lends gravity to ther performance, and the Qawwals don't lapse into the loudness that sometimes overpowers the later recordings of Farid Ayaz, Abu Muhammad and Party. The performers, especially Munshi Raziuddin Sb, are clearly enjoying the performance and it shows. The girahbandi is faultless and Farid Ayaz displays flashes of his uncle Ustad Bahauddin Qawwal's style in his taans and girahs. Abu Muhammad's voice is crisp and powerful as always, and the taali and percussion are forceful, another hallmark of this group. The wonderful interludes at the 21-22 mark are especially endearing, bandishes that have ceased to be performed after Munshi Raziuddin Sb's death. The taali and takraar at the end of the performance are especially 'zor-daar' as Farid Ayaz offers a final, wonderful girah.
6. Tanam Farsooda Jaanpara - Fateh Ali-Mubarak Ali Qawwal
The undisputed masters of Qawwali performed a number of different versions of this seminal kalam. Varying in tempo, arrangement, duration and girahbandi, each performance is a masterpiece. They were probably the best exponents of incorporating traditional Hindustani instruments in Qawwali, steering well clear of harmoniums in their studio recordings. Using sarangis, sitars, sarods, clarinets and occasionally flutes, they were experts at evoking just the right mood for each kalam. Here, as the instruments strike up a melancholy note, expressing the longing and desire in the poet's heart, the scene is set for Mubarak Ali Khan's piercing alaap. As in all their other studio recordings, the accompanists only provide the taali, with the vocal duties shared exclusively by the three brothers. This lends a unique dignity and stateliness to their performance.
The tempo is gradually accelerated for each verse, before being reined back again. Each verse provides opportunities for Mubarak Ali Khan's taankaari and Fateh Ali Khan's mini-takraars. Some of these taans and takrars were later copied verbatim by Nusrat and the other disciples of the Ustads in their performances of this kalaam. A full seven minutes are spent exploring the final verse of the kalam. Mubarak Ali offers vacillating taans, that were later used by his son Mujahid Mubarak Ali as a member of Nusrat's party and his disciple Majeed Fareedi as a member of various wonderful Qawwali ensembles. Fateh Ali and Salamat Ali construct takraar upon takraar as the Ustads prove once and for all that a performance can be vibrant, energetic and 'zor-daar' without overwhelming the kalaam. Mubarak Ali's celebrated 'Pahaari' taan arrives at the 17 minute before the Ustads deliver one final verse, topping off a wonderful performance.
7. Tu Sultaan-e-Sahib Sareer Aamadi - Haji Mahboob Ali Qawwal
This is a powerful, vigorous performance, different from Haji Mahboob Sb's usual style in that it lacks much girahbandi.
What it lacks in girahbandi, it more than makes up in a million other ways. Starting with a brief, crisp sitar and harmonium sazeena and Haji Mushtaq's customary alaap, the dholak-driven performance proper begins. This arrangement allows for wonderful takraars and (in another departure from his usual performance style) taankari by Haji Mahboob Sb. Haji Sb's delivery on this performance is almost 'jalaali' as he stresses each word in each verse. This is one of Maulana Jami (RA)s most melodious na'ats, giving the Qawwals ample opportunities to vary the tempo without losing track of the thread of the main kalam.
I had to strictly enforce the 'one recording per artist' rule in Haji Mahboob Sb's case. Haji Sb's repertoire was so varied that I could have constructed a post comprising of his versions of all of the kalaams in this post and then some. Although given the title of "Andaleeb-e-Rumi", Haji Sb was adept at performing Maulana Jami (RA)'s naats. Maybe one day when I have the requisite permission, I'll write a post consisting only of Haji Sb's exquisite renditions of Jami (RA)'s na'ats.
8. Cho Mah Dar Arz-o-Samaa - Jafar Hussayn Khan Badayuni Qawwal
Ustad Jafar Husseyn Khan possessed a style completely his own, unlike any of his contemporary Qawwals. Mellow, takraar-based, with loving attention paid to each and every word, each note of the performance; his was the most endearing style among all the Qawwals I have heard. In this wonderful performance (one of my favorites) , he is at his best, accompanied by his nephew Wajahat Hussayn Khan (who passed away in tragic circumstances recently). The takraars are reminiscent of Murli Qawwal (especially the wonderful takraar at 'Rashk-e-Malak') and the taans are sweet and melodious. When he enunciates "Mun Aasiyam, Mun Aajizam", one can feel the humility and the plaintiveness dripping from his voice. Wodehouse talks of spreading "sweetness and light", something Jafar Hussayn Khan was an absolute expert in, capturing the mood of this na'at perfectly. The final flourish is the superb mini-takraar at "Jaan-o-Dilam" before the performance winds down.
9. Az Husne Malihe Khud - Haji Ghulam Fareed Sabri And Party
Haji Ghulam Fareed Sabri possessed one of the most astounding voices of the last century. From his earliest recordings with Kallan Khan to his final performances in the early 1990s, his was an instantly recognizable, almost magical presence. With Haji Maqbool Sabri's superbly melodic voice as his counterpoint, he reigned over the Qawwali world for almost two decades. Some of his best work however, is found in the solo albums that were released by various European labels in the late 1980s adn 1990s. This recording is taken from one of the best Qawwali records ever produced, "Jami" , released in 1995 by Piranha Records, Germany. Everything in this performance, from the wonderful Sazeena that prefaces it to Haji Ghulam Fareed's hefty alaap, exudes energy and life. The dholak is especially lively, and Haji Sb propels the performance along at an explosive pace. The takraars are embellished by powerful taans, wonderful melodic improvisations (Khud tegh zadi bar man, naame digeraan kardi). Each verse is individually explored, displaying glimpses of the twenty year old Ghulam Fareed Sabri from Kallan Khan's party. This recording, as well as this album, is the most fitting tribute imaginable to one of the most vital, most powerful Qawwals of his age.
10. Ze Shaukat Jaan Ba Lab Aamad Tamaami - Bakhshi Salamat Qawwal
The final recording in this post is by the Qawwal group that defies superlatives. Exceptional vocalists, superb instrumentalists, brilliant shagirds of Fateh Ali-Mubarak Ali Qawwal, Bakhshi Salamat Qawwal are one of my favorite Qawwals. Bakhshi Khan's voice has no parallels, and accompanied by Salamat Ali, Mubarak Ali and Sadiq Ali Saddo, it was a fearsome instrument. Like their Ustads, they were experts at using instruments, especially in their wonderful studio recordings, including this recording. It is a short recording, but wonderfully melodious, with the voices of all three vocalists on full display. Saddo Khan's taans and Bakhshi Khan's hefty vocals lend an added poignancy to the words. Having listened to it on repeat on many occasions, I am always transported by this performance, and it forms a fitting bookend to this post.